Frog Island (Version 0.4A)
Frog Island Version 0.2 Available!
---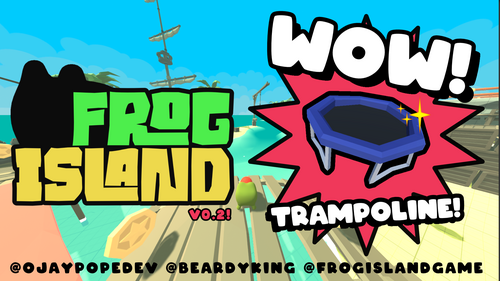 We are happy to announce that Frog Island Version 0.2 Is now available! A lot of balancing has been done in this version to make the game easier for beginners to play.
Major Changes include:
Reworking of the tongue swinging to make the movement more intuitive.
Redesign of the later part of the level, most of the swings are now easier.
Added Settings Menu, currently a Work In Progress.
Added coins for the Frog to collect. Currently nothing to buy with these, but the shop will open up soon...
Added new Trampoline. Chain bounces with Swings for fast paced movement!
We are now beginning another round of play-testing, through data analysis and player feedback. If you play our game you give us really good information about how to improve it. But what we really value is your opinion, so if you have time, we have a short survey to fill out, which you can fill out here: feedback.ludomatter.com
If you are interested in all things frog Island. You can check out our brand new Twitter account: https://twitter.com/FrogIslandGame and Facebook account: https://www.facebook.com/frogislandgame. Give us a follow :)

We are now beginning to develop Version 0.3 Which will be mainly a content update. Shouldn't be too long now for that, but thanks for waiting!
Thanks,
Oliver, Kingsley, and Froggy
Files
FrogIsland_v0.2_x86.zip
39 MB
Apr 24, 2020
Get Frog Island (Version 0.4A)