Frog Island (Version 0.4A)
Version 0.3 Released: The Netherlands!
---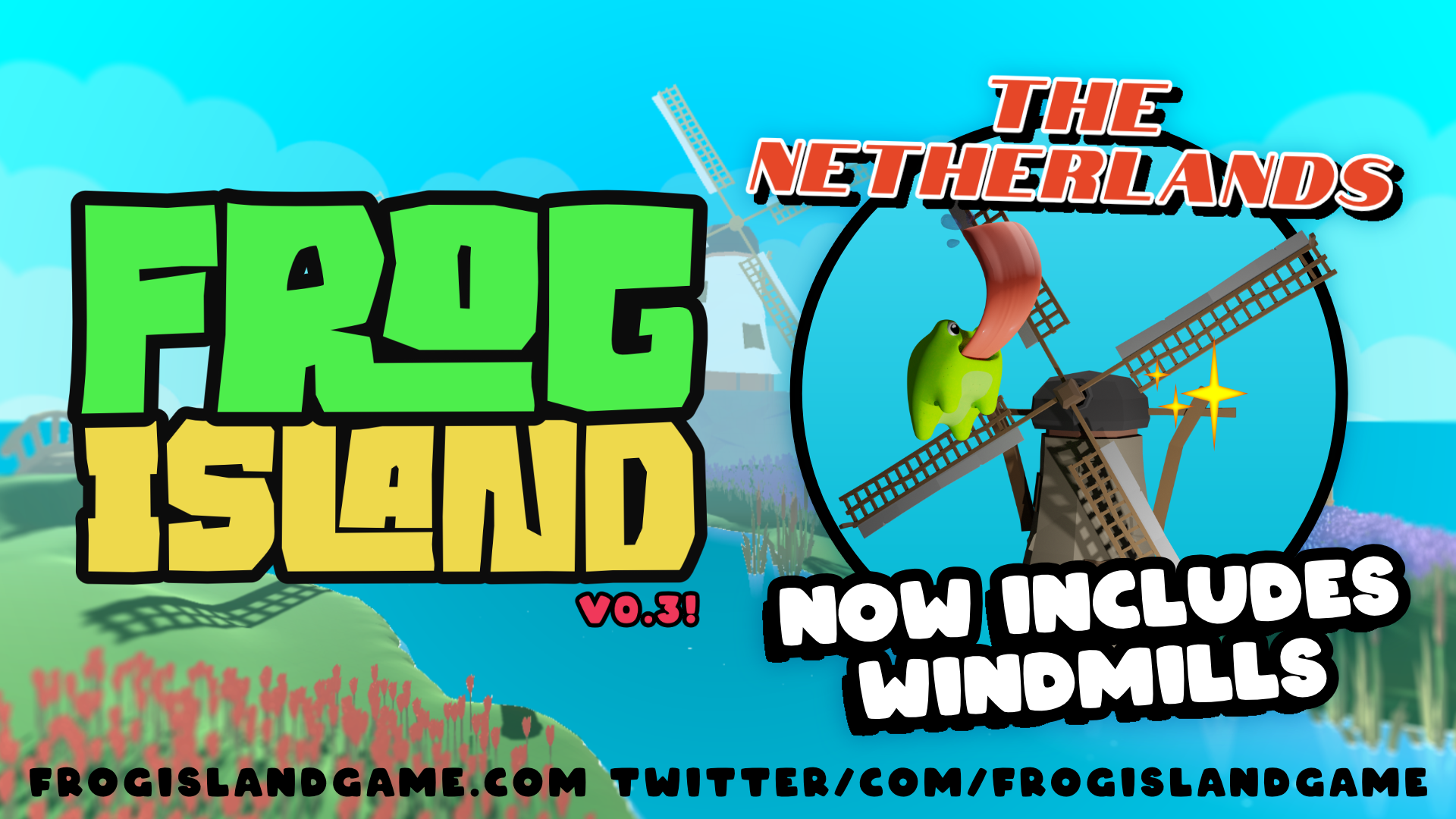 Its been a little while, but we are back!
So you've got the swing of it? It's time to visit the land of the windmill, the isle of the clogs or even the country where bicycles are the ubiquitous mode of transport. You can swing around these landmarks in our first full level, the Netherlands!
Frog Island Version 0.3 brings a new level to play, themed on the Netherlands. At the moment this level is still in block-out form, so don't expect too many tulips just yet, but we are working on it!
In addition to new content, we have updated the frog's model and animations, getting closer to how we want the character to look. Still not 100 percent there yet, but one step in the right direction (we hope🐸)
In other news, our website is now live! Check out frogislandgame.com and sign up for our mailing list to get information about updates, events, competitions and everything else frog related! Twitter , Facebook and Instagram are also great ways to keep up with the frog, so give us a follow on those! We now also have a small community on Discord, so if you want to chat to us, and other people playing Frog Island, you can join us there!
That's all from us at the Frog Island Team for now, we really hope you like the new content!
🐸


Full List of the features, content and fixes are here:
New block out for Level "The Netherlands"
New Theme for "The Netherlands"
New Character Model and Animations (WIP)
New Menu Scene to choose between the 2 current levels
New Game Objects:

Dragging cube with pipe
Windmills
Rotating Pipes
Pin Drawbridge Checkpoint
Zip-line
Levers and Buttons

New Sounds:

"Banana" Collection sound

New Settings:

Audio control settings for volume with music and sound
Render distance slider for performance.

Save Data now more functional, remembers the Bananas that a player has collected already (WIP)
Made the Bananas more exciting 🍌
Files
Frog Island Version 0.3A.zip
46 MB
Jun 03, 2020
Get Frog Island (Version 0.4A)
Comments
Log in with itch.io to leave a comment.
Hey there! Thanks for letting us know! We have resolved that issue, and have released a small update for that fix. 🐸